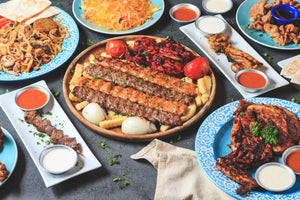 Love of Food is at the center of Persia Grill, a home-kitchen of an Iranian-FIlipino Family that started in 2007.
Looking for a new venture?
Be a Persia Grill Xpress Owner!
Be Persia Grill's franchisee and bring the finest Mediterranean classics in your town at an affordable price!
We are currently offering an introductory franchise fee, so click below to know more.
Click here to know more
What makes us special
Every batch made fresh
Persian cuisine makes use of natural & nutrient-rich ingredients prepared with great technique creating a balance of a healthy diet, flavor and aroma.
What our customers are saying
★★★★★

Garlic Sauce

Its my favorite! I really like the taste, an appetizer and perfect pair for all my food from salads, fried chicken to barbecues - squid, fish and mushroom too. Versatile, definitely a sauce for all seasons!

Tanimfa
★★★★★

Plant Based Kebab Mix (400g)

"It's been a long time since I tasted a legit kebab because of my plant based diet. Having this plant based kebab option provides a healthy alternative and without the guilt free meal (no animal product). My hope if you can also provide a plant based kebab set just like with your beef/chicken set. P.S. Same day delivery so you can enjoy your order ASAP!!" 

Andre L.
★★★★★

Pita Bread

"Was delivered yesterday and we tried it last night! Sarap ng pita bread! It's not like the usual pita bread na nakakain ko outside kasi it tastes better! It goes so well with the falafel na niluto namin last night. Will definitely order again"

Florence G.
★★★★★

Ultimate Shawarma Rice

"We loved this! Generous servings also! I didn't expect it to be this good! Loved loved loved this! Orders arrived as agreed upon! We will order again! Complete orders arrived! Keep it up!"

Maria M.
★★★★★

Garlic Sauce

This is my most favorite garlic sauce ever! It's so addicting, you can put this in EVERYTHING! Thank you for this!

Maria M.
★★★★★

Beef Kebab Mix

"Delicious and authentic! The item arrived on the same day I ordered it. I baked the kebab in high heat instead of frying and that reduced the fat by a lot. Flavor of the meat was great. The sauces were delicious too. My family loved it so much we ordered a second batch on the same day."

Camille L.